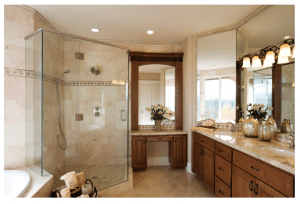 When one bathroom, two bathrooms, or even three bathrooms is not enough for your growing and expanding family, it's time to consider a bathroom addition or bathroom expansion. Beautiful Baths and Kitchens based in Montgomery County handles both options in several Maryland counties, so no matter what you are up against, we can help you out.
We've handled bathroom additions in basements, additions, expansions, and more. Turn a half bath into a full bath with a bathroom remodeling project, or create space for an entirely new bathroom addition. Wherever you need the space, we can consult on the best place that complements your home and lifestyle.
Don't let basement plumbing or any other factors offset what you image — we're experts at bathroom expansions and have proven solutions for each bathroom remodel job we take on. No matter what type of home you have, we've worked in it before and can make your bathroom dreams come to life.